Home > Resources > Extreme Scientists > Entomologist

Entomologist: Brett Ratcliffe

Dr. Ratcliffe is seen here hunkering down in the mountains of Panama in Central America to collect rhinoceros beetles. He is studying these awesome giants of the bug world to understand the ecology, history and distribution of them in Costa Rica and Panama. Rhinoceros beetles belong to the family Scarabaeidae which is the fifth largest family of beetles, with nearly 30,000 species known! And guess what? There are even more species that aren't yet known. More species are found in Central and South America than in any other part of the world!

"The Dynastinae is one of the most conspicuous subfamilies of Scarabaeidae, and it occurs in all the major biogeographic regions of the world. About 1,400 species of dynastines are known although the actual numbers of them will probably reach 2,000."

Dr. Ratcliffe: What's He Doing?

The objectives of the project he is working on are : (1) to create a collection of beetles from Costa Rica, Panama, and the United States and (2) to publish a well-illustrated field manual which details all the Dynastinae of Panama and Costa Rica. Included in the manual will be descriptions of all species, geographical and temporal distributions, ecological and life history data, and both English and Spanish keys to identify the species.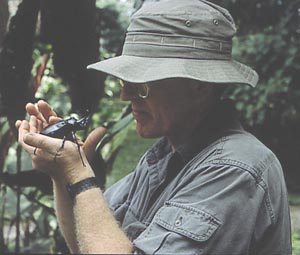 The users of the manual he is helping to create would be; Costa Rican and Panamanian scientists and students studying their local fauna; ecologists who encounter these insects in their studies and who need identifications and information on biology and distribution; biogeographers needing distributional data; park and reserve managers needing to establish management plans, educational programs, or research opportunities; applied entomologists in each country requiring information about pest status; and a whole lot of regular people who just like to read about and collect beetles for fun. Collecting and keeping large beetles for pets is popular in Japan.
Costa Rica and Panama are small countries that are rich in diverse animals and plants. But they are also countries of intense land development where pristine areas are being developed by humans. Knowledge about the plants and animals of a country helps to keep delicate ecosystems intact. Inventories, such as the one Dr. Ratcliffe is working to create, are basic to that understanding.
"In order to arrive at a sound view of ecology in tropical ecosystems, we must first identify and catalog the fauna. The growing recognition of the importance to humankind of tropical forests and the mounting concern for their future is well known. The pace of basic research in the tropics must be accelerated, and failure to do so will eventually limit our capability to contribute solutions to impending scientific and human problems." Dr. Ratcliffe
It's scientists like Dr. Ratcliffe who go out into the world and scope out more bugs, identify and catalog them. As a scientist out in the field Dr. Ratcliffe gets to experience the excitement of being the first human being to see new species of beetles that have never before been identified. Talk about trailblazing!
Other Cool Stuff...
Here are some of the practical skills that Dr. Ratcliffe uses on the job everyday that were learned OUTSIDE the classroom:
1. Camping, backpacking: learned in Boy Scouts.

2. Driving a 4-wheel drive vehicle: learned on-the-job.

3. Speaking a foreign language: "What you learn in school is O.K., but it is not the same thing as learning it IN a foreign country speaking to the people with whom you are working."

4. Collecting insects & making an insect collection: "This was a hobby when I was a kid."

(Also, Boy Scouts has an Insect Life merit badge, and there is an extensive 4-H program dealing with insect collecting and study)

5. Geography: "There are so many neat places to see in the world. I studied up on where these were so that I would know more about them and where I would like to go to conduct my studies.