Home > Resources > Extreme Scientists > Volcano Seismologist

Volcano Seismologist
Randy White

Randy is a member of a team of people that make up the Volcano Disaster Assistance Program (VDAP). They're usually called the "volcano crisis assistance team" and they were the models for the heroes of the recent popular film, "Dante's Peak". They chase volcanoes all over the world to do detective work and predict what a particular volcano is going to do. They look to answer three questions; 1) is a volcano going to erupt, 2) how big will the eruption be, and 3) how much time do we have? It's a form of large-scale crisis intervention that they do to save lives from the destructive force of volcanoes.

Randy and his team go out into the field to visit volcanoes that have shown recent increases in seismic activity. He's like a doctor who visits the volcano to put his fingers on its pulse to check for signs of life.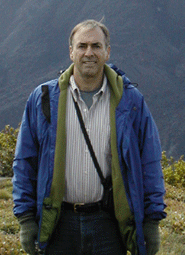 "Typically, there's a lot of earthquakes associated with the underground movement of magma that's trying to make its way to the surface for an eruption", says Randy. That's usually one of the events that gets the locals worried about whether or not their sleeping volcano is considering waking up. That's when Randy and his team get called into action.
"Unlike most seismology organizations, we can be rapidly deployed", says Randy. "Our entire team, techno-gear included, can be on a plane in 24 hours. That's probably the main reason we are the number one team of scientists dispatched to the scene of a volcano site."
Randy's team is quickly mobilized and arrives first on the scene. They set up their equipment and train some local people on how the equipment works and what to watch for. Once the volcano monitoring station is in place Randy's team moves on to the next potentially active volcano site and they do it all again. They keep checking back with everybody they've dialed in to make sure all's well, occasionally revisiting the monitoring sites to keep things on track.
You won't see Randy standing on the rim of a caldera with lava spewing in the background, though. His team is there BEFORE that happens; they collect data and once they know how much time they have, they're outta there!
One of the most important pieces of equipment that he uses to collect information about the potential of a volcano is a seismometer (essentially a magnet on a spring which transmits ground movement to a receiver that plots the measurements on paper in the form of "squiggly lines"). Like a doctor using a stethoscope to listen to a heart beat, Randy uses a seismometer to "listen" to rumblings deep underground. But measuring the ground movement isn't enough, other measurements are needed to determine if there's a potential for an eruption. Surface deformation (you know, if the ground is "bulging") and atmospheric gases are also sampled. High levels of CO2 and SO2 are also possible indicators of trouble ahead.
His job takes him out in the field about three or four times a year, and more often if there's increased volcanic activity afoot. Randy and his team were involved in predicting the eruption of Mt. Pinatubo in the Philippines. An estimated 20,000 lives were saved when his team predicted the time, the size, and the place of the eruption, the largest in the world in almost 80 years! Randy says he and his team have successfully predicted several other recent volcanic eruptions in Latin America. "It's much more rewarding work than the work I used to do trying to predict earthquakes. We still haven't figured out how to do that".
Maybe YOU could be the scientist who figures out how to predict earthquakes, saving thousands of lives.
Other Cool Stuff....
Randy visits a lot of foreign countries where the most active volcanoes are located. "Being able to get around in a foreign country is extremely important as a scientist, if you're going to get any work done. Speaking the language of the native people goes a long way towards getting cooperation from the locals. You can learn a lot about the history of the area from visiting libraries and speaking with local people. You might find useful information that you never would have gotten otherwise. Information that helps to put together important pieces of the puzzle". Randy speaks fluent Spanish, and understands Italian and Portuguese. As a foreign exchange student in high school, he lived near the flanks of erupting Mt. Sakurajima in Japan, where he picked up an interest in volcanoes and some of the Japanese language.
Randy enjoys hiking, rock climbing and occasionally steer roping. He cracked one of his ribs trying to wrestle down a steer recently. One of his personal goals is to swim in as many caldera lakes as possible. So far, he's swam in 14 around the circum-Pacific "ring of fire".
Here are the other primary members of the VDAP:
C. Dan Miller - Chief Geologist (Ph.D)
Chris Newhall - Geophysicist/Geologist (Ph.D)
John Ewert - Geologist/ Deformation Expert (M.S.)
Andy Lockhart - Electronics and Technology Expert (M.S.)
Jeff Marso - Computer Expert (M.S.)
Marvin Couchman - Electronics and Technology Expert (B.S.)